Legal challenge refused over first genetically modified potatoes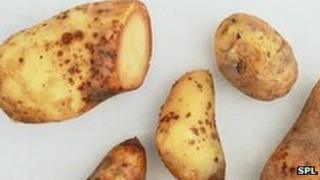 A group of campaigners in the Irish Republic has been refused a legal challenge over the first trial of a genetically modified potato crop.
In July, the Environmental Protection Agency (EPA) gave the go ahead for a gm blight-resistant potato crop to be tested in County Carlow.
The group sought approval from the High Court to take a case on the basis of the Arhaus Convention.
The convention was ratified earlier this year by the Irish government.
Article nine of the convention requires that people have the ability to challenge critical environmental decisions, without facing the threat of large legal costs.
"Mr Justice Gerard Hogan said he had no jurisdiction to make such an order because the Arhaus Convention has yet to be put into Irish law" said Green Party Environment spokesperson, Cllr Malcolm Noonan.
"We don't regret taking the case and we will now consider our position."
Irish Green Party leader Eamon Ryan said: "Once you lose your GMO free status there is no going back."
"We will no longer be able to brand all Irish foods as GMO free and will lose a critical advantage in key export markets.
The EPA said it had given its approval for the scheme following a detailed examination and assessment.
The consent was subject to eight conditions including reporting requirements and management of the trials.
The agency said scientists would continue to monitor the land for four years after the trial