Ireland's first US college football game for 16 years draws crowds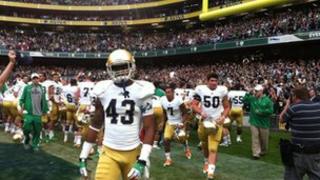 Some 50,000 American Football fans gathered in Dublin's Aviva Stadium on Saturday to watch Notre Dame take on Navy.
Billed as the "Emerald Isle Classic", the game was the first United States college game in Ireland in 16 years.
It saw Notre Dame based in Indiana, and Navy, the team representing the US Naval academy, based in Maryland, play against each other.
The march of 1,000 members of the Brigade of Midshipmen onto the pitch signalled the start of the pre-game festivities.
Tens of thousands in each tier stood tall.
The time had come for the green acres of the stadium to turn red, white and blue.
"Sport is very important to Ireland. It's the soul of the nation in so many ways," said Taoiseach Enda Kenny.
"Thirty-five thousand Americans crossed the Atlantic for this game and it's going to be an extraordinary spectacle."
Janet Kuntz who had travelled from Southern California admitted that the transatlantic trip was worth it.
"We were here in 1996 when Notre Dame and Navy last played in Dublin so there was no way we were going to miss today," she said.
"Notre Dame won last time and we're hoping that we'll win again today."
Great for Ireland
Other fans had not travelled as far.
"I'm really excited about the game," said Matt Craig who plays for the Carrickfergus Knights, Northern Ireland's longest running American Football club.
"It hurts me because I was a Penn State fan growing up but I think Notre Dame is going to win but regardless of who wins or loses I think it's great for American football and great for Ireland," he said.
The event also served as a launch pad for the 'The Gathering Ireland 2013', an Irish government initiative to attract tourists to Ireland in 2013.
The Irish Republic's tourism minister, Leo Varadkar, stressed that the benefits of the game, forecast to generate some 100m euros for the Irish economy, would not stop at the border.
"The 35,000 US visitors are travelling around the country, some of them came through Belfast and others are booking add-on trips," he said.
"I know a lot of people are going north to see the Titanic Centre and the Giants Causeway."
At the pitch sideline, Holy Cross priest Fr Mark Thesing, who serves as the away chaplain to the Notre Dame team, took time out to explain some aspects of the game.
"There are about 100 players on the team, with 11 on the field at a time and it switches back and forth between offense and defence or special teams for kicking," he said.
"I'm always feeling hopeful and I'm feeling pretty confident now but we got to keep it going, the players have got to stay in the game, play defence and keep scoring."
Chance of a lifetime
At half time Notre Dame were in the lead.
"I think we will be just fine," said smiling Notre Dame fan Jim Yeager from Ohio.
"But this whole day is awesome, what an experience, it really is the chance of a lifetime for my family and I to be here."
And it was to be Notre Dame's day, who ran out easy winners on a scoreline of 50-10.
"I'm a little disappointed but they put up a heck of a fight," said Navy fan Lisa Matrella.
"We're going to head to Temple Bar later, I hear that's where the party is happening."