David Greene dies after Melbourne attack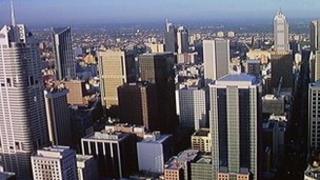 An Irishman who was critically injured in an attack in Melbourne, Australia, last month has died in hospital.
David Greene, 30, had been in intensive care at the Alfred Hospital in the city since 26 August.
David Byas, 30, the other Irishman who was injured in the attack at a boarding house, is still receiving treatment.
A Victoria Police spokeswoman said Mr Greene died in hospital from his injuries.
The Irish Department of Foreign Affairs issued a statement on Friday on behalf of Mr Greene's family.
It said he "passed away surrounded by his family and friends".
"David's parents, Aidan and Catherine, along with his brothers Luke and Aidan, wish to express their gratitude to all those who have helped and supported them through this difficult time," the statement said.
"In particular they would also like to express their deep gratitude to the medical staff at The Alfred Hospital for the wonderful care and attention they provided to David, and to the staff at the Irish Australian Welfare Bureau in Melbourne for all their support."
A man from St Kilda East in Melbourne has been charged in connection with the incident.
Luke James Wentholt, 31, was arrested after he arrived at a hospital seeking treatment for injuries a few hours after the attack.
He was remanded in custody to reappear at Melbourne Magistrates Court on 8 October.
Mr Wentholt was charged with two counts of intentionally causing serious injury, two counts of recklessly causing serious injury and other related offences.