Longford residents to discuss gas concerns with officials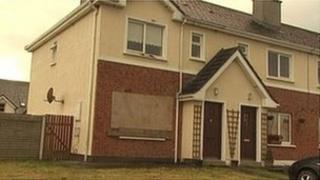 Residents of a County Longford housing estate where high levels of gas have been detected will meet health officials on Tuesday to discuss their concerns.
It follows an explosion at a house in the Gleann Riada estate which led officials to discover high levels of methane and carbon monoxide gases in the area.
The blast blew out a front window of one house and caused major internal structural damage.
Engineers who have examined the site said serious faults in the foundations of the sewers, resulted in the high levels of noxious gas.
There was a second explosion at another property on Friday, which was also caused by the gas.
Longford County Council has warned residents not to light open fires in their sitting rooms until further advice from the HSE.
There are over 80 homes in the Gleann Riada housing estate.
Two senior medical officials will answer questions from residents on the levels of gas being detected.
The levels are being monitored constantly.
The cost of repairing the sewers has been estimated at more than 2m euro.
Many residents have asked to be relocated.