Galway anti-war activists in Shannon Airport protest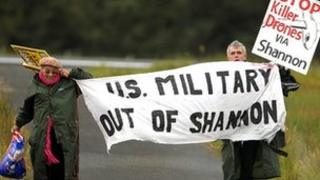 A 78-year-old anti-war activist who protested at Shannon Airport on Monday has said she wants to go to court "to have a conversation with the state".
Galway Alliance Against War members Margaretta D'Arcy and Niall Farrell were arrested on the runway of the County Clare airport.
The group said the protest was to mark the 11th anniversary of the war in Afghanistan
It claimed in those years Shannon had been turned into "a US military base".
Ms D'Arcy, 78, said they wanted to have their say in court.
"We want to go to court. You might say the reason that we did it is we want conversation and dialogue," she said.
"What we need is conversation in the public places.
"What we are saying is that we have been forced to this to have a conversation with the state in the courts and let the whole thing come out.
"We were doing two things - one it was about the 11th anniversary. Two it was about the fact that drones are now going through Shannon and we think that drones are the most deadly weapon of war."
She said being in her late 70s did not hinder her protest activities.
"My age is no barrier to me - I've been in jail a lot of times, it doesn't matter to me one bit. It's just the whole complicity - why are we allowing this to happen."
Ms D'Arcy claimed security at the airport had been extremely lax and that they had been able to stay on the runway for 25 minutes.
"The security is diabolical," she said.
"Shannon is a civilian airport, it's not meant to be a military airport. It's dangerous for civilians.
"If we could get through and be there on the runway for 25 minutes - it's a scandal."
The 78-year-old said she had time to scatter the ashes of her late partner John Arden on the runway.
"It was just nice, he should be there with me and be part of it - he would have approved," she said.
Airport police picked the protesters up at the runway and handed them over to Gardai who later released them without charge.
However, a Garda spokesman said a file was being prepared for the Director of Public Prosecutions.
He said no damage was caused and the airport and there was no disruption.