German film looks at ties between Rommel and Hitler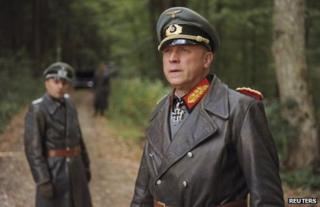 A new film about Erwin Rommel has been shown on German television, depicting the general as a weak man undone by his links to Adolf Hitler.
Dubbed the "Desert Fox" when he fought the Allies in North Africa during World War II, he was admired by enemies for his skills on the battlefield.
He finally killed himself, under pressure from the Nazi leader, who suspected him of taking part in a plot.
But the TV film questions depictions of Rommel as a tragic anti-Nazi hero.
It was broadcast on German public television channel ARD on Thursday, as the 70th anniversary of the battle of El Alamein was commemorated. The battle saw the defeat of Rommel and his German army, the Afrikakorps.
On Friday morning, Rommel was the top trending topic among users of Twitter in Germany and the film has generated articles and comment in the media.
Historians say the field marshal came to be regarded as a military hero in post-war Germany, where even a warship was named after him.
In the English-speaking world, he was positively portrayed by the actor James Mason in The Desert Fox (1951), which highlighted his disputed role in the July Plot to assassinate Hitler in 1944.
'Demystification'
Nico Hofmann, who produced the new German film, told Reuters news agency: "The idea is to demystify Rommel.
"There is a lot of speculation surrounding the myth of Rommel. To some he is a brave, proud soldier, the Desert Fox.
"Some people don't know he committed suicide under pressure from Hitler and think he perished in the war and there are many questions about how close he was to the resistance."
The film leaves open to question whether Rommel was part of the 20 July Plot to assassinate Hitler with a bomb. The general's own wife Lucie denied he had played a role.
But his son Manfred, who was 15 when the general died and is now 83, wrote to the film's producers last year, protesting that the film underplayed Rommel's role in the resistance to Hitler, said Mr Hofman.
Some historians argue that Rommel was a loyal follower of Hitler to the end, who owed the Nazi leader his ascent through the German military, while not sharing his Nazi politics.
"I don't accept that Rommel was a Nazi but I do believe that Rommel was a man who used the Nazi apparatus to secure a military rank which he would not otherwise have got," British military historian Robert Lyman told BBC Radio 4's World Tonight programme.
"He was a brilliant field tactician but he was always on the outside of the main aristocracy of the German army. Nazism gave him an opportunity because Hitler fundamentally liked winners."
'Moral coward'
Mr Lyman believes the suggestion that Rommel plotted to assassinate Hitler is "absurd", arguing that he was a "very loyal soldier" who rejected the approaches of the plotters.
"That actually indicates that Rommel was a fundamentally weak man, a moral coward who recognised what Nazism and Hitler could give him personally but was not willing to live by his principles," he told the BBC.
"When Hitler insisted that he committed suicide, he obeyed his Fuehrer."
The traditional view of Rommel's death is that he agreed to swallow poison to avoid a public trial and retaliation against his family.
Critics of the film say it brushes over the issue of whether Rommel knew about the Holocaust, with many historians arguing that an officer of his rank must have known about the Nazis' genocidal policies.
German history professor Soenke Neitzel, who has written about Rommel and advised the film-makers, told Reuters: "On the one hand he didn't commit war crimes that we know of and ordered a retreat at El Alamein despite Hitler's order [to stand and fight].
"But he took huge German casualties elsewhere and he was a servant of the regime. He was not exactly a shining liberal or Social Democrat. Mostly, he was interested in his career."