Irish politician Frank Feighan wears poppy in Dail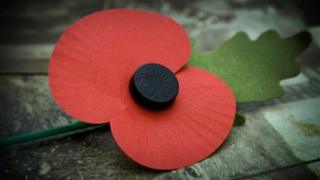 An Irish politician wore a poppy in the Dail on Tuesday to commemorate those who died in the First World War.
Fine Gael TD Frank Feighan said his "symbolic gesture" was the first time in 16 years that the emblem had been worn in the main chamber of Republic's parliament.
In 1996, Fine Gael TD's Paddy Harte and Brian Hayes, along with a Labour Party TD Emmet Stagg wore poppies.
More than 49,000 soldiers in Irish regiments died in the First World War.
It is estimated that nearly a third of all young Irish men signed up at the time.
"Thankfully, the peace dividend has delivered a new politics which has allowed us to publicly respect all traditions on this island" Mr Feighan said.
"This politics of inclusiveness has also allowed us to publicly revisit some aspects of our past which up to recently were off limit, that includes the countless Irish men who fought and died in the Great Wars."
The Oireachtas (Irish parliament) Code of Parliamentary Standards outlaws the wearing of emblems of a party-political nature.
However, a spokesperson for the Oireachtas has said there was "no issue" about wearing poppies.
"Poppies grew in the fields where the battles and slaughter took place; a place where many Irish men are now buried," Mr Feighan said.
"Thankfully, over the last two decades, we have arrived at a point where the poppy is no longer a controversial symbol in the Republic."
Last week, as chairman of the British-Irish Parliamentary Assembly, Mr Feighan called for a joint British-Irish approach to commemorating the First World War.