Gabriel Byrne: The Gathering Ireland 'seen as scam' by Irish Americans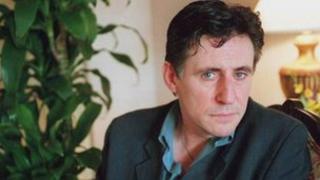 One of Ireland's most famous film stars has said a tourism drive to encourage people with Irish links to visit the country is being viewed as a "scam".
Gabriel Byrne said many Irish Americans felt the Gathering 2013 was an attempt to "shake them down for a few quid".
The initiative has been billed as "a year-long celebration" of Ireland, its people and its worldwide connections.
The US-based actor said although he wished it well, Irish Americans were sick to death of being asked for help.
He said many young people felt they had been "forced to emigrate" because they could not get jobs in Ireland, and felt angry that they were now being asked to help support the Irish economy when they were still struggling financially themselves.
Mr Byrne, who is a former Irish cultural ambassador to the US, starred in movies such as Miller's Crossing, Into the West, Little Women and The Man in the Iron Mask.
Recession
He made the remarks on an Irish radio programme which was broadcast from New York on Monday, ahead of the US presidential election.
Speaking on Today FM's The Last Word, he said: "The only time the diaspora, or Irish Americans are ever mentioned, is as tourists and 'how can we get these people here to boost our tourism and how can we get people back here so that we can shake them down for a few quid?'
"One guy I know, who's a plumber in Philadelphia, said to me 'do they not understand that there's a huge recession here? I'm a plumber and I can't afford to get on a plane and bring my family back to see a game of hurling in Belmullet, or wherever it is'.
"He said 'it's a huge ask to say, put your money aside, buy five plane tickets, come back, get involved in our local egg-and-spoon race and help our economy,' " Mr Byrne added.
The actor said he had spoken to young Irish emigrants, some of whom blamed the "incompetence" and "gangsterism" of the Irish government for the state's current economic situation, and for the fact that they felt "forced out" of their homeland.
Positive
The Gathering Ireland was launched by the Irish government in May and is expected to be the "biggest tourism initiative ever staged in Ireland".
On the official website, the organisers said: "Ireland has had its share of doom and gloom in the last couple of years.
"The Gathering is an opportunity to do something positive for our country and help stimulate local industries. More importantly, it's an excuse to host parties, festivals and celebrations!"
During his interview, Mr Byrne stressed that he was expressing a personal opinion and added that although he did not share the optimism of the organisers, he wished them success with their project.
Update 16 November 2012: The headline on this story has been changed to clarify that the Irish tourist initiative described in the article is correctly referred to as The Gathering Ireland.