Divers search Donegal lake for world's rarest golf balls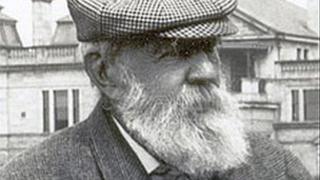 Divers have begun a search in Donegal for what they believe could be some of the world's rarest golf balls.
The gutta percha balls once belonged to golfing legend Old Tom Morris, who won the Open four times in the 1860s.
It is believed the balls have been lying at the bottom of one of the county's deepest lakes for 120 years.
"It really is like looking for a needle in a haystack but if we find the golf balls it'll be well worth the effort," said dive leader Gus O'Driscoll.
The team started searching Lough Salt, near Kilmacrennan, last month.
They believe that Old Tom Morris drove up to 20 golf balls into the lake while he was designing the nearby Rosapenna golf course in 1891.
From St Andrews in Scotland, he was a player, club maker, green keeper and course designer who helped set up the Open.
In the last two decades of the 19th Century he was regarded as the most famous golfer alive.
He was brought over from Scotland by Lord Leitrim to design the 18-hole links course through the sand dunes outside Downings.
"We've carried out some research and spoke to local people whose parents were around when Tom Morris was here and they told us how he stood up on the hill overlooking Lough Salt and drove the balls into the lake," said Gus.
"It soon became a tradition after that for golfers on their way home from the Rosapenna to stop off and drive balls into the lake.
"That checks out because we've seen thousands of balls on the bottom of the lake and we have recovered some which date back to the 1940s and 50s."
But the golf balls Gus and his team are searching for are no ordinary balls.
Known as gutta percha, they were designed in the 1840s and used by Old Tom Morris at the time when he won his Open titles.
"They are a very distinctive ball and should stand out amongst the others.
"Some of them have come up for auction before and sold for thousands of pounds.
"If we were to find some of the balls used by Old Tom Morris then they would be even more valuable.
"If we do get lucky and find one then we are going to donate it to the Rosapenna Golf Course because they're his link with this part of Ireland."