Donegal councillor calls for upgrade of road where driver died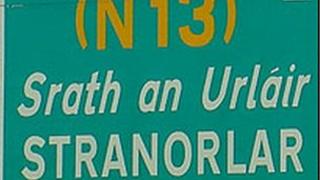 A Donegal councillor has called for the Lifford to Stranorlar road to be made safer after a 26-year-old man died in a crash there on Christmas Day.
Luke Peeks, from Inver in south Donegal, was travelling towards Castlefin when his car went off the road near Stranorlar at about 23:00 GMT.
The man's car was found in a field close to the road
Councillor Patrick McGowan said the road urgently needed to be improved.
"When you leave Stranorlar, there is about a mile of straight road and then there is a series of bends between Straorlar and Killygordon," he said.
"Where this young man went off the road is just at the beginning of those bends.
"This area would be known as an accident blackspot."
He said it was "an awful tragedy" for the man's family and friends.
"Unfortunately over the years, there have been other fatalities within close proximity of where this young man died," he said.
"Quite regularly, maybe once every month or every two months, cars are going off the road at this particular location.
"I have highlighted this on numerous occasions and it shows the need for some work in this area to slow the road down. It needs realignment.
"Even in the short term we need some remedial work done."