Germany minister Annette Schavan faces plagiarism inquiry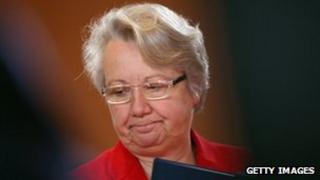 A German university is to investigate allegations that Education Minister Annette Schavan plagiarised parts of her doctoral thesis in 1980.
The University of Duesseldorf has voted to back the inquiry into her philosophy thesis on the formation of conscience.
Ms Schavan has denied the claims first raised by an anonymous blogger.
But the investigation into one of Chancellor Angela Merkel's closest allies is seen as potentially awkward months before federal elections.
Another plagiarism row in 2011 led to the resignation of Defence Minister Karl-Theodor zu Guttenberg, when it emerged that large parts of his doctoral thesis were copied.
Ms Schavan has told the Suedwest Presse newspaper she had no intention of resigning. Chancellor Merkel's spokesman said on Wednesday she had full confidence in the minister's work.
'Secret ballot'
An initial evaluation of Ms Schavan's PhD thesis found questionable passages on 60 of its 351 pages, according to earlier media reports.
The minister told a German newspaper last year that she had never "knowingly falsely cited any sources and did not "attempt to mislead".
The university's doctoral board said it had to investigate the allegations "regardless of the person or her position".
"The board has discussed the facts in detail and voted with a secret ballot by a score of 14-0 with one abstention to open a full investigation," the university's dean, Bruno Bleckmann, was quoted by Reuters news agency as saying.
The board is set to meet again on 5 February.