Putin sacks leader of Russia's troubled Dagestan region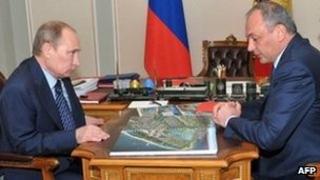 President Vladimir Putin has dismissed the leader of Russia's most troubled region, Dagestan, where an Islamist insurgency is raging.
Magomedsalam Magomedov was named president of the republic in 2010 but has been unable to rein in the unrest.
He has been moved to a job in the Kremlin. Ramzan Abdulatipov, an MP from the ruling United Russia party, takes over as acting president of Dagestan.
Political assassinations, bombings and gunfights are regular events there.
The region has taken over from neighbouring Chechnya as Russia's most volatile province.
Islamist groups have vowed to make Dagestan part of an Islamic caliphate stretching across the North Caucasus.
However, analysts say criminal gangs are also behind much of the violence.