Longford shop wall collapse: Second customer dies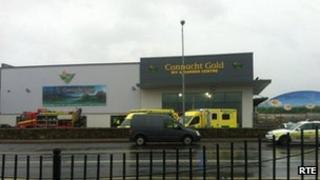 A second shop customer has died after a wall collapsed inside a DIY store in Longford town in the Irish Republic.
Five people were hurt when a large internal wall fell in the Connacht Gold DIY and Garden Centre on Athlone Road on Tuesday afternoon.
Two of the injured, a man aged 47 and a man in his 60s have died. A third man who was working in the store has been seriously hurt.
The Health and Safety Authority (HSA) has launched an investigation.
Journalist Eoghan MacConnell said: "Unfortunately these two men were shopping in the store at the time when the wall came down and they both lost their lives tragically."
He said both men came from two rural communities not far from the shop.
"When you see the wall itself, the height of it and the tonnes of blocks which come tumbling down it's surprising that more weren't hurt," he added.
Mr MacConnell said the building had been operating as a DIY store for a number of years, but was taken over by Connacht Gold Co-operative Society early last year.
It underwent a refurbishment and reopened to the public in April 2012.
On Tuesday, the chief executive of Connacht Gold, Aaron Forde, said safety was a primary concern and added his company was cooperating with emergency services, the police and the HSA to establish the cause of the accident.
He also expressed his company's sympathy to the those affected by the incident.
"Our thoughts and prayers are with them," he said.