Spain Socialist leader Rubalcaba tells PM Rajoy to go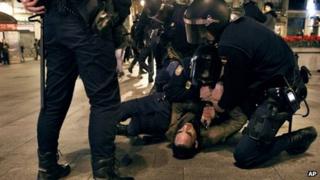 The leader of Spain's opposition Socialists has urged PM Mariano Rajoy to resign amid corruption allegations made in a centre-left newspaper.
Alfredo Perez Rubalcaba said Mr Rajoy "cannot lead the country" as Spain faces a huge economic crisis.
El Pais has published images of ledgers showing payments to members of the governing PP. Mr Rajoy says they are false and denies receiving payments.
Protests against Mr Rajoy were held on Saturday in several cities.
An online petition demanding the leader's resignation has gathered more than 740,000 signatures.
Mr Rubalcaba said Mr Rajoy should "cede his place to another leader".
"His presence is not going to help resolve this political crisis," he said.
El Pais said the photographs it had published were of ledgers kept by former treasurers Luis Barcenas and Alvaro Lapuerta between 1990 and 2009.
Money was allegedly paid by firms via Mr Barcenas, who stepped down in 2009 and is currently under investigation for money-laundering.
El Pais splashed photos of the alleged ledgers on its website on Thursday.
Investigators recently revealed that Mr Barcenas held a Swiss bank account which at one point held as much as 22m (£19m; $30m) euros.
Until 2007, Spanish political parties were allowed to receive anonymous donations.
Spaniards have been asked to accept painful austerity measures as the government battles to avoid an international bailout. Meanwhile, the unemployment rate has reached a record 26%.
Demonstrators took to the streets in Madrid, Barcelona and Seville on Saturday evening calling on Mr Rajoy to step down, with clashes with police in Madrid.
Earlier in the day, Mr Rajoy denied the allegations, saying he would publish full details of his income and assets on the Popular Party's website.