Garlic smuggler, Paul Begley, has jail decision deferred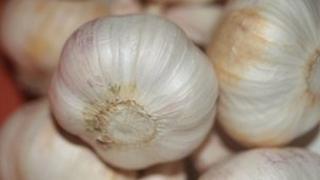 An Irish court has said it needs more time to decide on an appropriate jail sentence for a man who smuggled garlic - disguised as apples - to avoid tax.
Paul Begley, from Rathcoole in County Dublin, admitted last year to smuggling more than 1,000 tonnes of garlic from China, labelled as apples.
The scam cost the authorities an estimated 1.6m euros (£1.3m) in taxes.
Begley was jailed for six years last March, but has successfully appealed the severity of the sentence.
Last month, the Court of Criminal Appeal set aside the six-year term, ruling it was excessive.
It was due to impose a new sentence on Monday, but the court has deferred the decision, saying it needed further time to consider an alternative.
At the time of the offence, Begley was the head of Ireland's largest fruit and vegetable producers
He is currently in custody, awaiting the court's decision.
At the original case, held in Dublin Circuit Criminal Court last year, the judge was told import duty on garlic was "inexplicably" high and can be up to 232%.
Onions have an import duty of about 9% in the Republic of Ireland.