Bolshoi manager spars with dancer over attack on Filin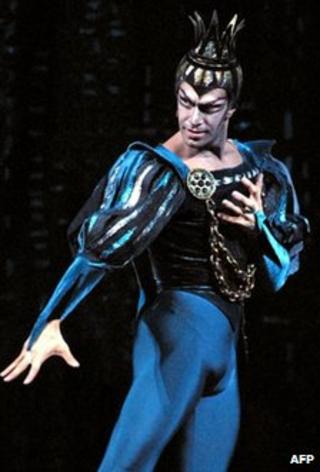 The manager of the Bolshoi Theatre has sparred in a Russian magazine with a star dancer following the acid attack on artistic director Sergei Filin.
Anatoly Iksanov told Snob magazine the attack was the "natural consequence" of a chaotic situation created by dancer Nikolai Tsiskaridze.
He also accused Tsiskaridze of helping to bring down former ballet director Gennady Yanin in 2011.
Tsiskaridze denied the accusations, and said he had only sympathy for Filin.
The Bolshoi's artistic director, badly injured in an acid attack last month, has left hospital in Moscow for further treatment in Germany.
He told reporters he would feel "great, if only my eyes could see a bit better".
'Mud-slinging'
Mr Iksanov told Snob: "I have just one feeling: that what happened is the natural consequence of the mayhem that was created above all by Nikolai... Tsiskaridze.
"The background that made this tragedy possible was the mud-slinging at the theatre and its staff, the constant intrigues and his certainty of his own impunity."
In response, the dancer told Snob he had "no connection to this tragic situation except sympathy for Sergei".
"Why was there any need to utter my name in connection with this terrible crime?" he continued. "There has not been such a scandal on an international scale at the Bolshoi for some time."
Asked who in his opinion might have been behind the attack, Tsiskaridze replied: "I don't want to come out with any theories. I am neither a detective nor a prosecutor."
Gennady Yanin's career was damaged by the publication of photos of a gay sex orgy.
Mr Iksanov told Snob there was "no doubt" about Tsiskaridze's involvement in the campaign to discredit Yanin.
"Who was interested in the sidelining of Yanin?" the Bolshoi manager asked. "At that time Tsiskaridze was actively fighting for the post of artistic director."
When asked for comment, Tsiskaridze challenged Mr Ixanov to provide evidence to back up his assertion, and told the Snob interviewer: "I might just as easily accuse you of playing a part in the killing of President Kennedy."
He said he had been friends with Yanin for years and he viewed what happened to him as a "great personal tragedy".