Pope Benedict: Will retirement seal his legacy?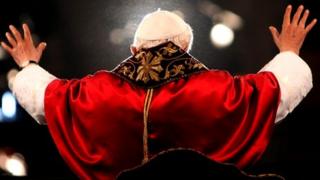 The papacy of Benedict XVI may not have been a glorious one. But his resignation means he will be remembered for many years to come.
As the last days, hours, and minutes of Benedict XVI's short, barely eight-year reign tick by until he retires at the end of February, my mind returns to the figure of another of the tiny number of Popes in history who are known to have voluntarily abandoned their high office.
Pope Celestine V was castigated by Italy's first - and perhaps greatest - poet, Dante Alighieri, for his "cowardice' in abandoning the throne of Saint Peter at the end of the 13th Century.
He had been in office for only five months and eight days.
In his epic poem The Divine Comedy, Dante placed Celestine in the antechamber of Hell for having been a notoriously poor administrator and having made "the great refusal" - basically for having been a failure as Pope and returning to the life he wished to live as a hermit.
Yet only a few years later, Celestine was canonised by one of his successors.
More recently he has been venerated both by Pope Paul VI - who visited his tomb near L'Aquila in central Italy in 1966, launching speculation that he too was considering retirement - and again in 2009, by Pope Benedict.
Lonely decision
Having witnessed the slow and painful decline of Benedict's immediate predecessor Pope John Paul II into speechlessness and semi-paralysis while valiantly struggling against Parkinson's disease, I can only sympathise with Joseph Ratzinger's bold decision to avoid a similar slow death while in office.
There have been unconfirmed reports that he is suffering from the same condition, although he has been unwilling to confirm this in public.
Pope Benedict is unlikely to go down in history as a good and efficient Church administrator. The Vatican has witnessed a series of internal conflicts and betrayals on his watch, and his attempts to reform the Roman Curia, the central government of the Church, have not met with success.
He has been forced to apologise to victims of clerical sexual abuse of children in several countries, including the UK, the US, Malta and Ireland.
He has failed to halt the steady haemorrhage of believers in many Western countries, although the Catholic Church continues to grow in numbers in parts of Africa and Asia.
The Vatican Bank came under suspicion of money-laundering and failure to conform to international banking regulations during Benedict's pontificate, and its director was forced to resign last year after a stormy board meeting.
But Pope Benedict could finally be best remembered for his lonely decision to step down voluntarily as leader of the world's 1.3 billion Roman Catholics and CEO of the minuscule Vatican City State - a decision made because he simply felt he was no longer up to the job.
In a sense he has separated the quasi-mystical divine function of God's representative on Earth from the very down-to-earth job of administering the world's oldest international organisation, one which has survived two millennia of schisms, would-be reformers and wars, as well as territorial, family and political ambitions.
The job description for Benedict's successor, whoever he may be, must reflect this sea-change in the requirements for the leadership of the Roman Catholic Church which has occurred during this first full papacy of the 21st Century.