Bulgaria gives Burgas bomb suspects' names to Europol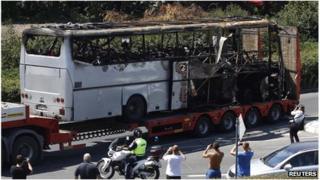 Bulgaria has given the EU's police agency the names of two people it suspects of involvement in the bus bombing that killed five Israeli tourists and a bus driver last July.
Interior Minister Tsvetan Tsvetanov said he hoped Europol would carry out "a thorough check and analysis" of the information gathered so far.
Bulgaria last week said it believed the two suspects are members of Hezbollah.
The Lebanese Shia group has strongly denied any involvement in the attack.
The bus carrying Israeli tourists was attacked by a suicide bomber at the airport of the Black Sea resort of Burgas on 18 July 2012.
Israel swiftly blamed Hezbollah - and Iran - for the bombing.
Revealing the results of a six-month inquiry into the bombing a week ago, Tsvetan Tsvetanov said the suicide bomber had been helped by two suspects, holding Australian and Canadian passports, who had direct links to Hezbollah.
The men had lived in Lebanon since 2006 and 2010 respectively, the AFP news agency quoted Mr Tsvetanov as saying.
He added that they were both members of the militant wing of Hezbollah and there was information showing the financing and connection between them and the Shia group.
'Global terror'
Mr Tsvetanov handed over the findings of the inquiry during a meeting on Tuesday with Europol director Rob Wainwright in The Hague.
Europol coordinates policing across the 27 European Union nations.
The suspects' names were put into Europol's database to find out whether they had been to other EU member states, Bulgarian news agency BTA reported.
Bulgarian experts were expected to travel to the Netherlands in the coming days to work with Europol, it said.
Until now, the EU has not followed the US lead in labelling Hezbollah a terrorist organisation.
In response to Bulgaria's report last week, Israeli Prime Minister Benjamin Netanyahu said Hezbollah and Iran were "waging a global terror campaign across borders and continents" and urged European nations to "reach the required conclusions regarding the true nature of Hezbollah".
If there was proof of Hezbollah's involvement in Burgas, it would be the group's first successful terror attack in Europe since the mid-1980s, Europol's Rob Wainwright said last week.