Horsemeat scandal: Spanghero licence ban partially lifted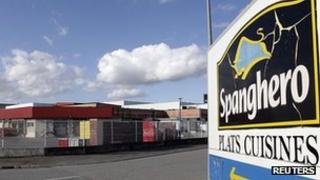 French meat processing firm Spanghero will be allowed to produce certain types of meat after France partially lifted its licence suspension.
The firm will be allowed to produce minced meat, sausages and ready-to-eat meals, but not to stock frozen meat.
Last week France suspended Spanghero's licence, accusing the firm of knowingly selling horsemeat labelled as beef. The company denies the allegation.
Full details of the probe will be revealed on Friday.
"On the basis of inquiry results presented to me this morning, I have decided to restore the licence for ready-meals, minced meat and sausages," Agriculture Minister Stephane Le Foll said on Monday.
"At this point, 80% of the entire meat stock have been verified, the work continues for the remaining 20%. The full report will be published on Friday."
France earlier said there were solid reasons to believe that Spanghero had passed off horsemeat in meals labelled beef but that unwitting workers should not be penalised.
'Fiddles'
Spanghero is a major employer in the south-western Castelnaudary region, which has been hit by high unemployment, and there has been a big local outcry about the impact if the firm were to close permanently, the BBC's Hugh Schofield, in Paris, reports.
Union leaders speaking on behalf of Spanghero's 300 or so employees said revoking the licence would "sound the death knell for the company".
Laurent Berger, who heads the CFDT trade union, said: "Workers shouldn't have to pay the price for managers' fiddles."
Union leaders are due to meet government officials on Monday evening to discuss the situation.
The widening scandal over mislabelled horsemeat has affected at least 12 European countries.
Spanghero's alleged role in the affair was not as a producer but trader of food, our correspondent says.
The French government believes that the sale of horsemeat labelled as beef went on for six months and involved about 750 tonnes of meat.
Spanghero imported meat from Romania and sold it on to another company, Comigel, which made frozen ready meals at its factory in Luxembourg.
French Consumer Affairs Minister Benoit Hamon said the meat had left Romania clearly and correctly labelled as horse.
"From the investigation, it would seem that the first agent or actor in this network who stamped 'beef' on horsemeat from Romania was Spanghero," Mr Hamon said.
But the company insists it was duped by middlemen.
"Spanghero confirms having placed an order for beef, having been led to believe it received beef, and having sold back what it thought was beef, properly labelled as such, in line with European and French regulations," the company said in a statement.
1. Comigel: Food processor
3. Spanghero: Meat processor
2. Tavola: Factory
4. Subcontractor
5. Trader
6. Abattoirs
7. Supermarkets
French food producer makes order
Comigel HQ in Metz, north-east France, asks its subsidiary, Tavola in Luxembourg, to make food products - including beef lasagne for Findus.
Factory orders meat
The Tavola factory orders the meat from Spanghero in the south of France.
Subcontractor used
Spanghero contacts a subcontractor in Cyprus to source the meat.
Subcontractor enlists trader
The Cypriot subcontractor in turn contacts a trader in the Netherlands.
Trader orders from Romania
The trader in the Netherlands places an order for meat with abattoirs in Romania.
Abattoirs send meat to France
The meat from the abattoirs travels to Spanghero in France. However, Romania rejects claims that it was responsible for wrongly describing the horsemeat from its abattoirs as beef. Horsemeat is always labelled as such, they say. The Romanian authorities claim records show orders had been for horse carcass - easily distinguishable from beef.
Meat used to make products
Spanghero sends the meat to the Comigel subsidiary's factory in Luxembourg before the finished products are supplied to Findus and retailers across Europe, including the UK. The president of Comigel says the company was unaware the meat was coming from abroad.
Horsemeat found in Ireland and UK
Tests by Irish authorities have found equine DNA in beefburgers made by firms in the Irish Republic and the UK. Traces of horsemeat have also been found in stored meat at another plant in Ireland and one in Northern Ireland. In mainland Britain, police and officials probing alleged horsemeat mislabelling have carried out raids at a slaughterhouse in West Yorkshire and a meat firm near Aberystwyth. Three men were later arrested on suspicion of offences under the Fraud Act..