Magdalene laundries: Irish government to debate report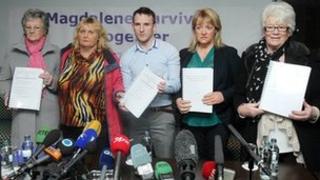 A report into the Magdalene laundries is due to be debated in the Irish parliament later on Tuesday.
The laundries were Catholic workhouses run by nuns in Ireland, where thousands of young women worked behind locked doors without pay.
Many who worked in the laundries claim it was slave labour and want a state apology and compensation.
Taoiseach (Prime Minister) Enda Kenny is expected to make that apology on behalf of the state during the debate.
It is believed that move could open the way for the women involved to seek redress or compensation.
Government contracts
The 1000-page report into the running of the laundries, written by the former senator, Martin McAleese, was published earlier this month.
It concluded that about 10,000 women passed through the laundries in the Irish Republic between 1922 and 1996.
Over 2,000 were sent there by the state authorities, and many Irish institutions, such as the army and some government departments, had contracts with the laundries.
The McAleese report found that some women were incarcerated for crimes as minor as not paying for a train ticket.
On the day of publication, Mr Kenny expressed regret for the or the stigma and conditions suffered by women who were inmates in the laundries, but he stopped short of a formal government apology.
Campaigners criticised his response and pressed for a state apology.
In the two weeks since, Mr Kenny has held face-to-face meetings with some of those who worked in the laundries.