Italy: Berlusconi spots his opening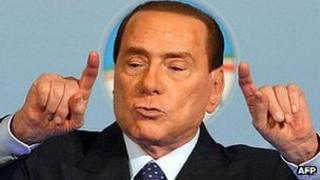 In November 2011, Silvio Berlusconi left office. The crowds sang the Hallelujah chorus and drank from the necks of champagne bottles. They saw the departure as the last days of a modern-day Roman emperor, mired in scandal.
Europe's leaders could not disguise their satisfaction. They feared Il Cavaliere (the Knight), as Mr Berlusconi likes to call himself, was endangering the eurozone by putting off reforms.
President Nicolas Sarkozy and Chancellor Angela Merkel had smirked at the mere mention of his name.
In his place came a technocrat, Mario Monti. He was from the Brussels caste, a former EU commissioner. He was sober and responsible and brought some stability. He followed the Berlin-Brussels script, combining austerity with reforms. He tried to make the labour market more flexible and went after the tax evaders. Mr Berlusconi was consigned to history.
Now he is back doing what he does best - campaigning. He is a politician-showman. He sells optimism. The video that runs at his rallies before he speaks is full of football clips and dancing girls. He holds a conversation with his supporters. He jokes with them and even, on occasions, bounces up and down, bringing the football terrace to campaign rallies.
The economy has given him his opening. Consumer confidence has fallen to its lowest level ever. Retail sales are sharply down. Industrial production has not been so low since they began tracking the figures. Italy is in deep recession.
Mr Berlusconi has been able to blame Mario Monti's austerity budget. Higher taxes have hit the consumer and the new property tax has been deeply unpopular.
Mr Berlusconi now sells himself as the tax cutter. He offers not just to drop the property tax but to pay voters back what they have paid. He does not reveal how he would make up the hole in the budget.
His opponents hint at the Berlusconi scandals. The centre-left candidate, Pier Luigi Bersani, said in Milan on Sunday night that the country was facing ruin whilst Mr Berlusconi was preoccupied with Ruby - the young woman he is accused of paying as an under-aged prostitute.
Many Italian men and women believe that Mr Berlusconi brought shame on their country - but many others believe the stories of bunga-bunga parties were exaggerated by left-wing magistrates and their allies in the press.
Europe nervous
All the evidence suggests that Mr Berlusconi has narrowed the gap with his centre left opponents
The Germans have not disguised their anxiety. The German Foreign Minister, Guido Westerwelle, said: 'We think it is important that the pro-European course and the necessary reforms will be continued."
It is a comment that risks backfiring. On his campaign stops Mr Berlusconi warns of a "German Europe".
It seems very unlikely that Mr Berlusconi will overtake the main centre-left coalition. His party may do well in the Senate, where votes are calculated on a regional basis. He expects to poll strongly in Lombardy and Sicily.
It might be just enough to make him a power broker, to give him influence. That is what much of Europe fears. Instability. Political horse-trading.
If that is the result of the election, it will send fresh tremors through the eurozone.