Irish police withdraw goodwill in pay row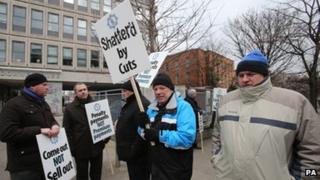 Police in the Republic of Ireland are withdrawing goodwill measures in a row over pay, the Garda Representative Association (GRA) has said.
The GRA represents almost 12,000 rank and file officers.
It said members will stop using their own mobile phones, laptops and cars for work and refuse to police certain events from Friday.
The government wants to reduce the force's wage bill and is closing more than 100 stations.
The Association of Garda Sergeants and Inspectors (AGSI) is supporting the rank and file members and will decide next week how and when to join the protest.
In 2010, the Irish government and various public sector unions came to a deal at Croke Park. Against a background of payoffs in the private sector the government agreed not to impose layoffs in the public sector and the unions agreed not to call for industrial action and to co-operate with efficiency reforms.
There have been discussions at extending the agreement and the talks on Thursday were picketed by some garda (police) officers.
The GRA has claimed that it was not involved in actual talks on public sector pay and only took part in an opening briefing session.
The GRA is not a trade union. Gardai can form only a representative body and cannot strike or take part in industrial action.
In 1998 thousands of officers phoned in sick in a dispute over pay, which became known as the 'blue flu'.