Will Naples stage an election 'revolt'?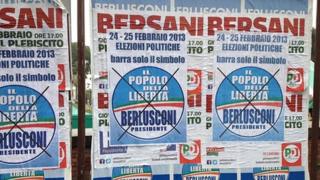 "Don't ask about taxes." The first words of greeting at my hotel in Naples' Piazza Garibaldi set the tone of my visit.
"Local tax, yes, you pay a local tax," says the receptionist. "Tax for this, tax for that, tax for everything. They are picking money from our pockets all the time - always another tax."
In a country where tax evasion is seen by many Italians (and perhaps even more Neapolitans) as a game played by the rich at the expense of the rest, this volley of fire for a welcome should not have been a surprise.
There is an air of fatigue in Italy's third city. It wafts over Naples in the scruffy streets, around the crumbling facades of once-magnificent buildings. And little wonder.
Unemployment sits uncomfortably above the national average here, as it has for so long. The municipal government is more than stretched - recently the buses stopped working because they couldn't pay for the fuel.
And few people seem to believe the promises accompanying this electoral campaign that things will get any better.
"People here don't trust politicians, it's a tradition," says Francesco Durante, a writer and commentator on Naples.
"We feel like we are a separate part of the country. We are a big city, all the best of Italy comes from here - pizza, song, love, the blue sky and the sea. But we feel abandoned."
He is not alone. On the seventh floor of an apartment block, live Emilia and Fabio Angelilo. Their living room wall is a gallery of framed qualifications, diplomas, degrees, MBAs - but Emilia, a microbiologist, is unable to find a part-time job.
Her husband has opted for self-employment as there is nothing in Naples for a software architect.
"I could work as a consultant and travel to Milan or Rome all the time for very little money. But it is not worth it. I know I won't get anything here. I am better trying to do something myself," he says.
For Emilia, the frustration is tempered by her twin five-year-old daughters.
"I am a Mum, I can be with the girls much more. But I think of all the years I spent in those books, learning, and it's all lost.
"There is nothing here. I am of the Left, so I would like to see [Centre-left leader Pier Luigi] Bersani win the election. But if it is [former Prime Minister Silvio] Berlusconi, I think this is the start of the end."
However, not everyone in this city is struggling. If you walk briskly along the Riviera di Chiaia, you may well miss it, but Marinella's tie shop has stood there for 99 years.
Maurizio Marinella is a provider of ties to the rich and famous and countless statesmen including Bill Clinton, Boris Yeltsin, Jacques Delors, Francois Mitterrand, Helmut Kohl... and Silvio Berlusconi.
"Mr Berlusconi is our best customer, says Marinella. "They order from us 300 ties a month. But [Prime Minister Mario] Monti also has my tie.
"I would like to see Monti in government because he is serious. We need austerity, yes. But we also need development policies to help me hire young people to work for me. I can't find any. Monti is serious. And Mr Berlusconi - he is positive."
I ask Maurizio if his dream team would be Mr Monti and Mr Berlusconi sharing power.
He is too careful a businessman to provide a categoric answer. Instead he prefers to reveal the one common thread that binds the main political leaders in this election.
"Bersani, Monti, Berlusconi they all have one thing in common... my ties!" he says.
There is one leader who does not wear a Marinella tie - Beppe Grillo doesn't do ties.
The stand-up comedian who founded the Five Star Movement is the maverick in this campaign. And in a city which has been a far from faithful political mistress to any political party over the years, Naples could provide another platform for the movement which rejects all the other parties.
"This is not a city for revolutions," says Francesco Durante. "But it is good for revolt. And this is why the Five Star Movement could have success here, maybe as much as 20-25% of the vote.
"In any case, Grillo is the one who forces all the political parties now to have to take account of his lessons - don't waste public money; be transparent; don't say you will give taxes back; don't say vote for me and I will give you two million jobs. Those days must be over."
Naples matters in this election.
The region of Campania is one of the critical regions, after Lombardy and Sicily, in determining how parties fare in the Senate.
That is why the Democratic Party staged its final, sign-off rally in the Piazza Plebiscito. It lost the city to the centre-right in the last election and needs to win it back to maintain a realistic chance of forming the next government.
The turnout for the rally, though, did not have the leadership boiling over with excitement. But then what would you expect from a city which, frankly, is hardly overwhelmed at the prospect of another chance to have its say at the ballot box.