Irish woman Marie Fleming challenges assisted death ruling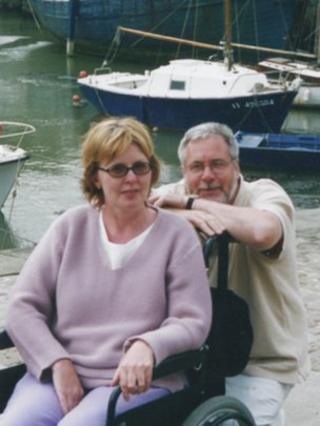 The Irish Supreme Court is to hear the case on Tuesday of a terminally-ill woman who wants to be allowed to get the help of others to die.
Marie Fleming, 59, a former lecturer, was diagnosed with multiple sclerosis in 1986.
Last month she lost a High Court action that sought to establish her partner's legal right to help her die if and when she chooses.
Suicide was decriminalised in the Republic of Ireland in 1993.
But the ban on assisting another person to commit suicide remains in force and a jail sentence of up to 14 years may be imposed for that offence.
Ms Fleming is cared for by her partner, Tom Curran, at their home in County Wicklow.
The mother of two adult children is challenging the constitutionality of the Criminal Law Suicide Act 1993, alleging it discriminates between able-bodied and disabled people.
In December, Ms Fleming told a three judge division of the High Court court the ban on assisted suicide was forcing her to live against her will in a life of pain and indignity.the ban on assisted suicide
The former lecturer is almost completely physically incapable and would need help to take her own life.
In its January ruling, the High Court judges described Ms Fleming as one of the most remarkable witnesses they ever had the privilege to encounter.
The High Court President Nicolas Kearns described her courage in adversity as "both humbling and inspiring".
The judges agreed a competent adult had the right to refuse medical treatment even if it led to death, but the taking of active steps by a third party to bring about the death of another was entirely a different matter, the court ruled.
They said if the court could tailor-make a solution that would affect Ms Fleming only without implications for third parties there might be a good deal to be said for her case.
But the court ruled it could not be so satisfied.
The court also ruled it would be unconstitutional for the DPP to issue guidelines on prosecutions for assisted suicide, but the court "felt sure" the director "in this of all cases" would exercise her discretion in a humane and sensitive fashion.
Ms Fleming was awarded the costs of this case as it was deemed to be of exceptional public importance.
The Chief Justice, Susan Denham, and six other Supreme Court judges will hear the case.
A reserve judgement is expected.