Irish government bank guarantee scheme to end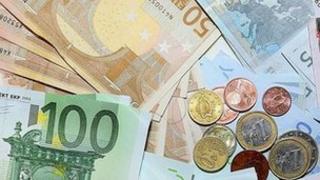 The government guarantee of Irish bank liabilities, that controversially saddled Irish taxpayers with billions in debt, is to end next month.
Irish Finance Minister, Michael Noonan, made the announcement on Tuesday,
Mr Noonan said the end of the scheme on 28 March, signalled that Irish banking had left the "emergency ward" and was now in normal conditions.
The scheme was introduced in September 2008 in a panicked response to the financial crisis.
With Irish banks facing collapse, the government introduced a blanket guarantee of everything within the system.
Bail out
Ordinary deposits were already covered up to 100,000 euros (£86,000) under a Europe-wide scheme and they remain covered at present.
But this exceptional guarantee covered up to 400bn euros (£345bn) in liabilities, commercial and inter-bank deposits, and bank bonds and debt.
The Irish government did not expect to have to pay out on the guarantee, but the financial position of the banks proved much worse than realised at the time and Irish taxpayers ended up bailing out the failed institutions to the tune of 62 bn euros (£53 bn).
The end of the guarantee had been expected. Under the terms, covered banks paid fees to the Irish Exchequer - some 1.1 billion euros (£947m) last year.
Savings
Its end will return savings to the banks and reduce income for the government, but Minister Noonan said this had been built into the budget.
In fact, he suggested the savings for the banking sector should increase profitability and benefit taxpayers, who should see their investment in Irish banks rise as a result.
The ending of the guarantee marks the latest step in addressing some of the consequences of Ireland's disastrous banking collapse.
Earlier this month the Irish government re-engineered the terms of its debt connected with the bailout of Anglo-Irish bank.