Record breaker? Mother of all cows gives birth to 16 calves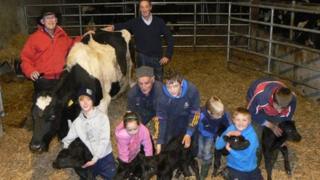 Is the world's most fertile cow out to pasture in a field in the Republic of Ireland?
The Friesian heifer in County Limerick has given birth to 16 calves, potentially placing her in line for Guinness World Records.
Her family consists of two sets of quins, a set of quads and one set of twins, all produced within the space of four years.
The bovine breeder has now been genetically tested to find out if she has record-breaking fertility.
The Guinness Book of Records says that the most live births for a cow in a single delivery is five calves, or quins.
These calves were born on 18 March 2005 at the Santa Clara Ranch in Reynosa Tamaulipas in Mexico.
But the owner of the Limerick cow, Ger Kirby, from Ballyneety, says his seven-year-old is unique because she has given birth to five calves twice.
She had four calves in 2009 followed by five calves in 2010, then in 2011, she gave birth to twins before producing another set of quins last month. A sixth calf died.
Ger told the BBC the latest set of calves were now all doing fine.
"Normally, a cow has seven to ten cows over her lifetime but she has given us 16," he said.
"The heifer and her calves were DNA tested on Friday to see if we can find out what's behind it all.
"We have been told she's the only cow in the world to have given birth to five calves twice."
The heifer is the only animal in his 100-strong dairy herd to have given birth to more than one calf at a time.
"She is a very special cow and she has done it all naturally," said Ger.
Single birth
Dr Dan Ryan of CowsDNA.com, which specialises in the reproductive management of cattle, said it was "absolutely fascinating".
"There is one recorded event of a cow having five calves from a natural birth in the 1950s, and one cow that had six calves," he said.
"Guinness World Records reports the most calves in a single birth as five calves, in Mexico in 2005 but there is no previous reported case, in my opinion, of a cow having multiple births on such a scale on repeated occasions."
It is not known what has made the Limerick heifer such a prolific breeder, however, she may not have a successor to carry on the prestigious lineage.
"We've had a mix of heifers and bulls at each birth," said Ger.
"Heifers twinned with bull calves are infertile. So there's no animal to carry on the genes. "
The female - who has yet to be named - has proved very popular with Ger's children, Ronan, 10, nine-year-old Alan and Ruth, five, as well as being a bit of a local celebrity.
But, like any female, having a big family has taken its toll. Her breeding days are well and truly over.
"She's being left to enjoy a long retirement now," said Ger.
"She's going to have the life of Riley."