Pope conclave: Ponchos and prayers on St Peter's Square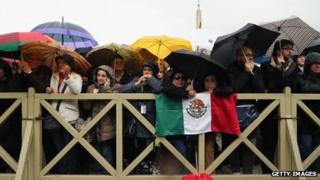 A panorama of multi-coloured umbrellas massed on St Peter's Square on Wednesday morning as hardy pilgrims braved tempestuous conditions to take up their chimney-watch vigil.
Some carried bedraggled national flags and were backing their country's favourites. Others clasped rosaries in their hands and prayed quietly for peace and unity in the Church.
There were gangs of students, families with prams, guide-book clenching tourists and a lot of nuns.
Many huddled in dripping plastic ponchos – it has been a bumper time for street-hawkers selling plastic sheets and cheap brollies.
Eyes darted between the rust-coloured chimney stack on the Sistine Chapel and the big screens dotted around the square.
High hopes
Lisa Shepard from Virginia and her sister Mary Uhrig are in Rome on a tour arranged late in 2012. Excited to be at the Vatican during historic times, both had firm favourites in the papal election.
"I'm hoping for the Filipino cardinal, Louis Tagle," said Ms Shepard. "He's young and great with technology so he'd be good for communicating the Church's message to the world."
For her part, Ms Uhrig was backing Ghanaian Cardinal Peter Turkson. "He's strong and spiritual and would be a great guide for the young," she said.
Standing by the barricade facing the balcony from which the new Pope will be introduced to the faithful, Adrie Asselin said he didn't mind who was elected Pope, as long as he opened the Church up to the whole world.
"I want a Pope who understands that women can play a role in the Church, because currently it just sees things through the eyes of men," said the 73-year-old Canadian.
What of the contenders themselves?
At a packed press conference on Wednesday, hosted by a polyglot trinity of Vatican spokesmen, we were assured the cardinal electors were in good shape and the emphatic smoke billowing from the Sistine chapel was not a hazard to their health.
Wine is on offer at the Domus Sanctae Martha hotel where they are staying, because in Italy "that is part of a normal meal", shrugged chief Vatican spokesman Fr Federico Lombardi.
"Stories about blocs, divisions, groups lining up among cardinals before the conclave are just stories," he added.
Bell-tone
And so the vigil goes on.
With four ballots a day, the longer the conclave goes on, the more likely we are to see a surprise winner as cardinals are expected to switch tactics to back candidates acceptable to rival factions.
The bad news for those holding smoke-watch vigil was that it took firm favourite Joseph Ratzinger four votes to get elected in 2005. And the field is much more open this time round.
Vatican watcher Austen Ivereigh said that if Wednesday brought white smoke, the new Pope would likely be Cardinal Angelo Scola, a 71-year-old Italian theologian widely regarded as a safe pair of hands.
"If the conclave continues into Thursday, it will be a more global contest, with strong candidates from North and South America, as well Cardinal Louis Tagle from the Philippines," Mr Ivereigh told the BBC.
But while the names of Cardinals Scola and the Brazilian Odilo Scherer may be generating more headlines than others at this stage, there is far less certainty in predictions than there was eight years ago.
At one point on Wednesday, jumpy journalists in the packed media centre adjoining St Peter's Square were startled by the sound of the basilica's bells, which are traditionally rung to announce the election of a new Pope.
But the hacks turned back to their laptops scowling as they realised a visiting journalist had the bells of St Peter's as their mobile phone ring-tone.
Out on the square itself, philosophy student Oscar Carrera from southern Spain stood frowning in the rain as the bell stood silent.
He is just hoping for white smoke so the cardinals clear out of the Sistine Chapel, allowing him to get a glimpse of Michelangelo's Last Judgement for himself.