Pope Francis quick to stamp his style on papacy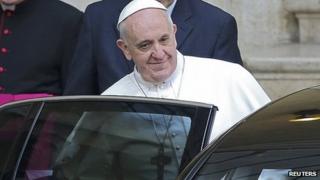 Less than 24 hours after appearing on the balcony of Saint Peter's Basilica dressed in his new white robes, Pope Francis is already setting a new style at the Vatican.
It is a style of simplicity, informality and prayerfulness which is redolent of the famous 13th-Century saint of Assisi whose name he has assumed.
After the final ballot papers had been counted and burnt, Pope Francis refused the papal Mercedes-Benz armour-plated limousine with an SCV1 number plate to be driven back to his temporary quarters - a VIP suite in the Vatican's Santa Marta Hotel.
He preferred to get into a minibus with some of the other Cardinals. At dinner he half-jokingly toasted his fellow Cardinals with a prayerful quip: "May God forgive you for what you have done!"
He telephoned his recently retired predecessor Benedict XVI, who now bears the title of Pope emeritus and had been watching the election on TV from his temporary residence at Castelgandolfo near Rome, and promised to visit him there soon.
Early in the morning the new Pope slipped out of Vatican City in a motorcade of unmarked vehicles accompanied only by a handful of close aides to pray in a Roman Basilica.
On the way back to the Vatican he insisted on settling his bill at a hotel for clergy in the centre of the Italian capital, where he had been staying until the conclave began on Monday.
Security for this unannounced trip into the city was kept to a minimum. Father Federico Lombardi, the Vatican spokesman, pointed out to journalists that the Vatican's security officers - the famed ceremonial Swiss Guard and the 150-strong police force - are there to serve the pontiff, not to restrict his movements.
"He will do his own thing in his own time and at his own speed," Father Lombardi said.
Pope Francis also seems determined to deal with the manifold problems facing his Church slowly and prayerfully, rather than as a fresh new CEO taking over a major international corporation armed with a new broom.
One unexpected factor is that the new Pope is a Jesuit, a member of perhaps the most powerful and experienced religious order of the Catholic Church.
Audience with media
The Jesuits, missionaries and educators, are trained to be expert communicators and it is significant that among the first people summoned to meet the new Pope at his hotel suite this morning was fellow Jesuit Father Lombardi - official Vatican spokesperson, head of Vatican Radio (run for many years by the Jesuits) and of the Vatican Press Office.
Under Pope Benedict, Father Lombardi was a mere functionary who had no direct access to the pontiff.
He could not pick up the phone and talk things through quickly with Benedict himself. He received orders from the Vatican Secretariat of State and briefed the press accordingly. All that has changed overnight.
Pope Francis has already decided he will meet the world's media who have arrived in their thousands to cover the papal election at a special audience on Saturday morning.
This shows a vivid awareness that prayer may not be enough to deal with the situation facing the Catholic Church at this critical moment in its long history. Public relations will be a priority at a particularly sensitive moment of papal transition.