Pope Francis sends greetings to people of Ireland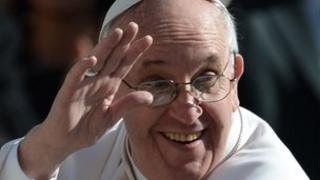 Pope Francis has personally sent his best wishes to the people of Ireland and asked them for their prayers.
After his formal inauguration at a Mass in St Peter's Square in Rome, the Pope met Irish president Michael D Higgins, along with other heads of state.
During the brief encounter inside St Peter's Basilica, the pontiff asked Mr Higgins to pass on his greetings.
"Best wishes to the people of Ireland," he said. "And I ask them for their prayers."
Mr Higgins, who spoke mostly in Spanish during the exchange, thanked Pope Francis for a St Patrick's Day message that he sent over the weekend.
"On behalf of the Irish people, who hold a special affection for the people of South America, I want to wish you every success in your vision for the Church," he said.
"My wish for you on behalf of the people of Ireland is that you have the best of health in your mission on behalf of all humanity."
Mr Higgins wrapped up the encounter by saying he wanted to leave the Pope with a message in Irish, which translates as: "I wish you good health and success in your pontificate and its advocacy on behalf of the poor of our vulnerable planet."