Cyprus crisis: Anxious Cypriots fear for future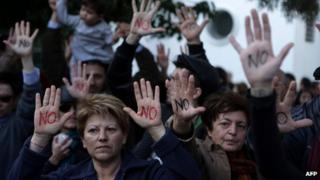 Greece, Portugal, Ireland: all three swallowed the bitter bailout pill. Who'd have guessed that it would be tiny Cyprus that would spit it out?
But that is exactly what the eurozone's third smallest economy has done. The proposed banking tax made Cyprus seethe.
The idea that all savers would face losses - some of up to 10% - sparked protests. Cypriots talked of "betrayal" by Europe. Not a single MP voted in favour.
It's a seminal moment in the eurozone saga: a rejection of German-led austerity, the people swaying the politicians. Cypriots have spoken loudly and Brussels has been forced to listen.
Closed banks
But what now? Banks remain closed and anxiety is growing. Amidst the smoke from the hookah pipes at Rami Suleiman's restaurant, the talk is of crisis.
"People have lived in fear for the past four days", he tells me. "I went to a bank machine to withdraw 1,000 euros because I'm also scared. I tried to withdraw more and it said the machine had no more money to give me."
Customers are choosing to pay by credit card, he says, which presents problems. "We have to wait for the banks to open so we can draw our money from the cards. So far, no money. I'd say we can survive till the end of this week. But a couple of weeks would be very hard," Mr Suleiman said.
The concerns are widely shared. At a supermarket in the capital, one shopper told me she was buying far less. "We're worried about what might come. This is an unbelievable situation. It didn't happen anywhere else. We wanted respect from our European friends and we didn't get it."
Russian money
So could Cyprus - in its hour of need - turn to its old Orthodox ally Russia rather than the EU? The finance minister is in Moscow to see whether the Kremlin will come to the rescue. But Russia will want a quid pro quo: there's talk of deals to access the huge and as yet untapped Cypriot gas reserves.
And many feel that help from Moscow would only be right, given the amount of Russian money on the island - much of it thought to be laundered.
"Part of the solution should come from a more workable deal with the EU, the European Central Bank and the IMF but part should also come from the Russians", says Stavros Zenios, Professor of Finance at the University of Cyprus.
"Russian deposits make up around a third of assets in the banking sector here, so taxpayers from Russia should be involved."
The defeat of the deal in parliament was met with huge cheers from the crowds outside. Some sang the national anthem, while others waved flags of other debt-stricken European countries.
But even if the whole deal is redrawn, some here believe the damage has already been done: that Cypriots' views of Europe have been coloured and that foreign investors will take flight.
"We've had angry clients - Russian, Polish, British - calling us to see what's going on", says Demetris Taxitaris, head of asset management at the Bank of Cyprus.
"They've said they'd move their money and businesses away from Cyprus because they worry what's in store. And as a result, the local economy will contract for a number of years."
Future fears
These are extraordinary times for an island more commonly associated with sun-kissed holidays.
Cyprus is by no means in lockdown: businesses are open as normal, the leisurely way of life goes on and the hotels are filling up - though mainly with journalists.
But beneath the surface something is changing here: Cypriots are proud of how quickly they bounced back from the war of 1974. Three decades later, their country became a prosperous EU member, albeit with an oversized banking sector and a dicey tax haven status.
But now Cypriots are beginning to fear the future. Pulled one way by Europe and another by Russia, Cyprus is stuck in the middle, uncertain of the way forward.
It is now a race against time to stave off a bankruptcy that threatens the euro - and this tiny economy craves someone to steady the ship.