Life in prison for Belgian creche killer Kim De Gelder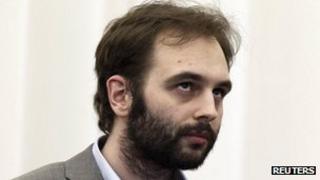 A Belgian man has been sentenced to life in prison for killing two babies and a child minder in a knife attack at a creche near Brussels in 2009.
A jury determined Kim De Gelder, 24, could be held fully accountable for the killings in Dendermonde, despite concerns about his mental condition.
He was arrested following the nursery rampage that injured 13 others - mostly babies - and admitted responsibility.
His month-long trial focused on whether he suffered from a mental disease.
De Gelder was also convicted of stabbing a 73-year-old woman to death in her home in Beveren, not far from Dendermonde, a week before the nursery attacks.
The jurors were left in "not the least bit of doubt" that De Gelder could be held accountable for his actions, said the court in a statement.
The trial was held in Ghent, near Dendermonde and some 50km (30 miles) west of Brussels.