SpunOut.ie: Irish health minister queries teen website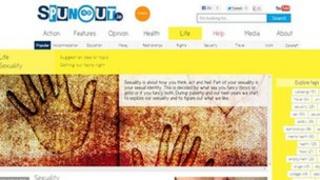 The Irish Republic's health minister has asked officials to investigate an all-Ireland teenage website after it published an article on sexual activity, including threesomes.
SpunOut.ie has defended the advice, saying it does not encourage teenagers to engage in such activity.
It said it informs them of why they may or may not enjoy the experience.
The Health Service Executive (HSE) gives SpunOut.ie 124,000 euros (£105,000) each year
That represents about 30% of its overall funding.
SpunOut.ie says it exists to provide balanced, reliable and responsible information for those aged between 16 and 25.
Sixteen is the age of consent in Northern Ireland and the site is an all-island one.
Several politicians have criticised some of its advice and called on Irish Health Minister Dr James Reilly to act.
Michelle Mulherin, Fine Gael TD for Mayo, said she questioned public money going towards a website with such content when there were waiting lists for young people accessing mental health services and orthodontic treatment.
She said she also questioned the HSE's sexual education policy.
"Is this a priority for funding?" she asked.
"It is not very helpful to be encouraging anyone to objectify another human being."
Dr Reilly said the HSE would investigate the website and that he believed the advice on threesomes "is not an appropriate use of public money".
He added: "From my personal point of view, as a doctor as well as a politician, I just think this is not the appropriate sort of information that the State should be putting out there."