Cork pothole: workers suspended for fixing road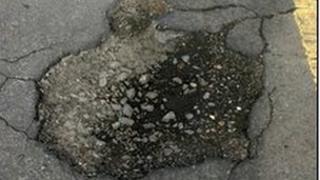 Three council road workers in County Cork have been suspended after they took an impromptu decision to fill in a pothole they found on the way back to their depot.
It is understood the workers were returning from a job when they spotted a dangerous pothole and decided to repair it.
A Health and Safety Authority officer saw them.
He said they had not put a proper traffic management system in place.
The workers were consequently suspended from their jobs.
The council has declined to comment on the suspensions.
The men's union, the Services, Industrial, Professional and Technical Union, (Siptu), has stepped in on their behalf.
Con Casey, Siptu, said: "These three workers have exemplary service records. There is a meeting arranged for next Tuesday (2 April) to discuss this with management and we will not be commenting further on the matter until that discussion has taken place."
The incident happened on 13 March at Bothar Guidel Road in Carrigaline.
Cork councillors were told about the suspensions at their meeting last Monday. They heard that the issue was about enforcing health and safety regulations.
Councillor John Mulvihill Snr, a former mayor of Cork, said health and safety was of vital importance.
He said that in recent times three road workers had died in accidents. The result was that the council was enforcing legislation rigorously.
"Health and safety is number one and you cannot put people's lives at risk," he said.
"The law says it was not safe. You need three or four people to fill in a pothole including two with 'Stop and Go' signs.
"You cannot put a cost on somebody's life. It is unfortunate. These men are very diligent working guys. They have 90 years of experience between them. They are conscientious people. But how far do you go. Do you rule out common sense altogether?
"Is this a case where a warning could have been issued to the workers? You could ask what about the health and safety inspector - was he a hazard when he stopped to talk to them?"
Councillor Noel McCarthy, Labour, said: "The lads showed initiative. We are all for health and safety but sometimes it can be taken too far.
"These are middle-aged men with plenty of experience. I felt that they had the motorists and the general public in mind."
Mr McCarthy said suspending the men was wrong.
"Common sense should have prevailed," he said.
The Labour councillor said he understood that there were just three men working on the pothole when there should have been four in order to meet health and safety rules.