Sarkozy Bettencourt: Lead judge receives death threat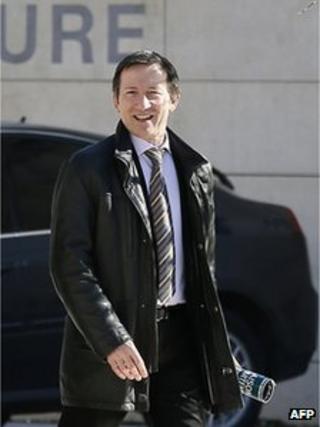 The lead examining magistrate in a corruption case against former French President Nicolas Sarkozy has received a death threat in the post.
Blank cartridges were included in the letter sent to Jean-Michel Gentil in Bordeaux, which also threatened those close to him and other magistrates.
Reporting the threat, the French magistrates' union appealed for calm.
Mr Sarkozy denies receiving illegal donations from L'Oreal heiress Liliane Bettencourt in 2007.
The former conservative president has been placed under formal investigation, accused of accepting thousands of euros from the 90-year-old widow, the country's wealthiest woman, whom experts consider to have been in a state of dementia since at least 2006.
On Monday, Mr Sarkozy went public for the first time about the investigation, saying he had never betrayed his public duties and pledging to clear his name.
"I will devote all of my energy to prove my probity and honesty," he wrote on Facebook. "The truth will prevail eventually. I have no doubt about it."
Mr Sarkozy won the presidential election of 2007 comfortably, only to be defeated last year by Socialist candidate Francois Hollande.
'Intolerable escalation'
Mr Gentil is the most prominent of the three judges conducting the investigation.
The magistrates' union said the threat had come on Wednesday after "unworthy if not insulting remarks by certain politicians following the placing under investigation of Nicolas Sarkozy and questioning of the impartiality of one of the magistrates (Mr Gentil)" by Mr Sarkozy's lawyer, Thierry Herzog.
"Today this magistrate was sent a letter to which blank cartridges were attached, clearly making a threat of death to him, those close to him and members of the magistrates' union," the union said on its website.
Rejecting attempts to "discredit" magistrates, it said: "Everyone should demonstrate the utmost responsibility in their words and we firmly condemn this intolerable escalation of violence."
Mr Herzog questioned Judge Gentil's impartiality in an interview with Sunday newspaper Journal du Dimanche.
The judge was among those who signed an opinion column in Le Monde newspaper in June accusing Mr Sarkozy and his predecessor Jacques Chirac of "wishing to protect the corrupt", Mr Herzog pointed out.
"Five days after signing this column, the same judge ordered four raids on Sarkozy's home, his office and his secretary's house," the lawyer said.
Judge Gentil unexpectedly summoned Mr Sarkozy for a face-to-face encounter with Mrs Bettencourt's butler, Pascal Bonnefoy, in Bordeaux last week.
The judge wanted to determine how often the politician had met Mrs Bettencourt in 2007.
While Mr Sarkozy has maintained he only saw her once during that year, the butler gave a different account.
Following the hearing, the ex-president was placed under formal investigation "for taking advantage of a vulnerable person during 2007 to the detriment of Liliane Bettencourt".
Under French law, the court's decision falls short of a formal charge.