Pope Francis leads Good Friday services in Rome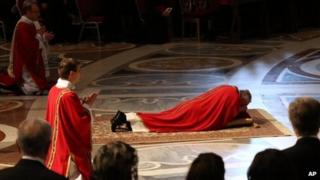 Pope Francis has led services to mark Good Friday as part of the Easter triduum, the Catholic Church's most important festival that recalls Jesus Christ's crucifixion and resurrection.
Earlier, he presided over a service at St Peter's Basilica to mark Christ's death on the cross.
He then oversaw a ceremony at the 2,000-year-old Colosseum recalling Christ's final journey with the cross.
Christians were thought to be martyred in the amphitheatre during Roman times.
Meditations read out at each stage of the night-time procession - known as the Stations of the Cross - were composed by young Lebanese faithful, and some urged peace in a region "torn apart by injustice and conflicts".
Easter services conclude on Sunday with a Mass celebrating Jesus' resurrection.
On Easter Sunday morning, the new Pope will deliver his first "Urbi et Orbi" message to the city of Rome and to the world.
Cardinal Jorge Mario Bergoglio, the former archbishop of Buenos Aires, was elected on 13 March to replace Pope Emeritus Benedict XVI, who became the first pope in 600 years to resign when he stepped down on 28 February, citing ill health.
Girls washed
Thousands of pilgrims and tourists have travelled to Rome to take part in the Easter ceremonies.
During Friday's liturgy, the papal preacher, Capuchin friar Fr Raniero Cantalamessa, delivered a homily citing Franz Kafka's An Imperial Message to emphasise the of difficulty of getting the important message of Christ to the worldly.
"We must do everything to prevent the Church from becoming Kafka's castle, where it is impossible for the messenger to get word out to the world," he said.
"So we must have the courage to knock them down and return the building to the simplicity and linearity of its origins."
On Saturday evening Pope Francis will celebrate the main Easter Vigil Mass in St Peter's Basilica.
On Thursday, he washed the feet of prisoners in a youth detention centre near Rome as part of the Maundy Thursday service commemorating Christ's Last Supper.
During the intimate service at Casal del Marmo, the Argentine pontiff washed and kissed the feet of 12 young detainees to replicate the Bible's account of Jesus Christ's gesture of humility towards his 12 apostles on the night before he was crucified.
During his inaugural general audience on Wednesday, Pope Francis called for an immediate political solution to the conflict in the Central African Republic after last weekend's coup.
The new leader of the world's estimated 1.2 billion Roman Catholics has brought a new sense of simplicity to the Vatican, says the BBC's David Willey in Rome.
He wears simple vestments, spurned a papal car following his election to ride win a bus with his cardinal electors, and has opted for a simple living style rather than taking up residence in the lavish papal apartments.