Teachers heckle Education Minister Ruiairi Quinn in Cork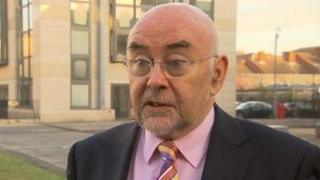 Irish minister for education, Ruairi Quinn, has been heckled during an address to a primary school teachers conference in Cork.
Delegates at the Irish National Teachers' Organisation conference also held up red cards to the minister.
INTO president Anne Fay was forced to intervene to call for attention for Mr Quinn during his speech.
Teachers have been angered by the so-called Croke Park proposals.
These include additional unpaid hours, increment freezes and pay cuts for some higher grades.
Mr Quinn is addressing two teacher conferences on Tuesday and is expected to appeal to them to vote in favour of the proposals.
He will speak to the Association of Secondary Teachers in Ireland in Wexford later on Tuesday.
Both the INTO and the ASTI are currently balloting on the Croke Park proposals.
Meanwhile, the Teachers' Union of Ireland, which has already rejected the deal, will debate a motion calling on members to resist any government move to impose changes without consent.