IMF delivers 'tough reality check' to Republic of Ireland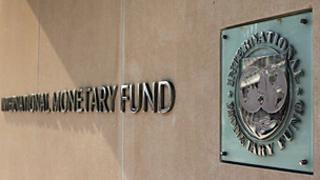 The International Monetary Fund (IMF) has delivered a tough assessment of the Republic of Ireland's economic problems.
In its latest report reviewing the Irish bail-out, it criticised the "inadequate progress" of Irish banks.
This was in dealing with non-performing loans and tackling home repossessions.
The IMF is also concerned that Irish banks are still losing money even before putting cash aside to cover those bad loans.
While acknowledging the progress that Ireland has so far made, the IMF warned that more needed to be done in dealing with banking issues including home repossessions.
It said that high unemployment could lead to the state's debts becoming unsustainable if growth forecasts were missed.
BBC NI's Dublin correspondent Shane Harrison said: "With the Republic of Ireland due to leave its bail-out programme at the end of this year, this latest IMF report will be seen by many as a reality check."