Quinn crane destroyed in blaze in County Leitrim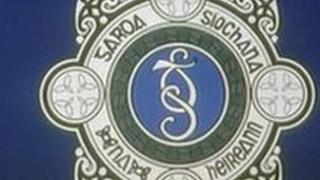 Irish police are investigating a fire at a construction site in County Leitrim that destroyed a crane belonging to the Quinn Group.
Fire services were called to the site of a new school in Ballinamore at around 22:30 BST on Thursday where they found the crane on fire.
Chief fire officer in the county, Finian Joyce, said the fire crew were met with a "substantial" blaze due to hydraulic oil and fuel on board the crane.
"There is a new school being constructed and the crane was parked quite close to the structure so there has been minor damage to the school but the crane was totally destroyed," he said.
Fire officers were at the scene for four hours.
Police said they are investigating the cause of the blaze, including a forensic examination of the scene.