Miner's body trapped after accident in Lisheen Mine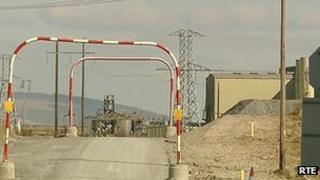 An operation to recover the body of a man who was killed in a mining accident in the Irish Republic is continuing, almost 48 hours after his death.
Mario Francis was working in Lisheen Mine, near Thurles in County Tipperary, when the roof of a tunnel collapsed.
The 49-year-old miner died on Thursday but a spokesman for the company that employed him said it could take until Sunday to recover his body safely.
An investigation has begun and the mine has been closed until further notice.
The miner, who was originally from the Philippines, was driving a loading vehicle at the head of the mine when he became trapped underneath a rock fall.
'Tragic accident'
The alarm was raised at 16:45 BST on Thursday and rescue services were called to the scene.
However, Mr Francis was pronounced dead a short time later.
No-one else was injured in the rock fall and the company described Mr Francis' death as a "tragic accident".
Lisheen Mine is owned by the Vedanta Resources Group, one of the largest mining companies in India.
The zinc and lead mine has been operating since 1996 and employs 370 people in County Tipperary.
It is one of the biggest producers of zinc concentrates in Europe.
Police and staff from the Republic's Health and Safety Executive (HSE) are involved in the investigation.