Portugal PM holds urgent budget talks after court ruling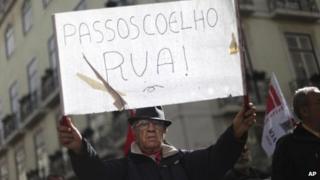 Portugal's PM has criticised the top court's ruling that parts of the 2013 budget are unconstitutional, and has held urgent talks with the president.
PM Pedro Passos Coelho held an extraordinary cabinet meeting on Saturday and said the Constitutional Court had made meeting commitments to international lenders difficult.
The court had rejected four out of nine austerity measures in the budget.
The PM met the president late on Saturday to discuss the next steps.
President Anibal Cavaco Silva said after the talks that the coalition government should remain in office and that the country should honour its international commitments.
Rein in spending
The government said it respected the court's ruling but did not agree with it, suggesting that the judges had failed to take into account steps taken by the government to make its austerity measures fair to all citizens.
After the cabinet meeting, the government said the court ruling had created "serious difficulties" for meeting budget targets agreed with international lenders.
The BBC's Alison Roberts in Lisbon says the PM is expected to make a statement on Sunday evening.
The court ruling would deprive the state of some 1.5bn euros (£1.3bn) in savings the government had said were necessary to meet the terms of a eurozone and International Monetary Fund bailout.
The terms require Portugal, which has already received 61bn euros of its bailout, to rein in spending sharply.
The court rejected a measure to scrap summer holiday bonuses for public sector workers and pensioners, as well as cuts to unemployment and sickness benefits.