Savita Halappanavar inquest: Midwives' evidence sought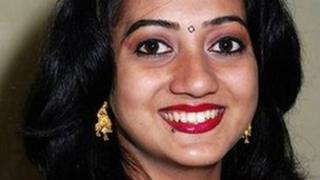 The inquest into the death of Savita Halappanavar has heard evidence about her first day in hospital and conversations she had with a midwife.
Two friends of Mrs Halappanavar who had visited her in hospital have been describing their conversations.
One of them, Mrudula Vasepalli, was with her on the morning of 23 October.
She told the inquest that when a request for a termination of pregnancy was made, a midwife said: "We don't do that here dear, it's a Catholic thing."
During lengthy cross examination by Declan Buckley, acting on behalf of the hospital and its staff, Ms Vasepalli was adamant that this was what she had heard.
Mr Buckley said there was no record of such a conversation in any medical notes.
Earlier, Coroner Dr Ciaran McLoughlin had asked legal representatives for the hospital if the midwife can be identified.
Mr Buckley told the coroner it was difficult to be certain who the woman in question was as there were several midwives on duty at the time.
He said the "best guess" the hospital could make was that the clinical midwife manager in question was Ann Maria Burke and that she had been accompanied by a student midwife.
The inquest was told both nurses have made statements but were not listed as witnesses.
The coroner has requested that they give evidence for the sake of completeness.