Cavan brothers safe after Boston bomb blasts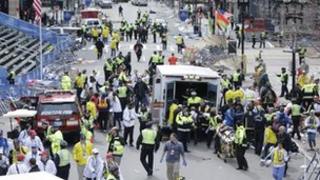 The sister of three County Cavan brothers who were in Boston when two bombs exploded has said her family is relieved hear they are safe and well.
Padraig Cusack, 37, from Bunnoe, Redhills, competed in the race on Monday.
He had travelled from Saudi Arabia where he lives and works as an engineer and was accompanied by two of his brothers, who had travelled from New York.
Mr Cusack had arranged to meet his brothers at the finish line but was unable to find them.
He returned to his hotel and after an anxious wait, he was informed by his sister Una that his brothers were safe.
She told the Joe Finnegan Show on Northern Sound Radio that the family were "sick with worry" when they heard about the bomb blasts in Boston.
"I kept checking up on Facebook to see was there any update," she said.
"I rang my sister-in-law in New York and she was trying to get in contact with them.
"She had other relatives as well running the marathon so it was about 20 minutes or so later when I checked Facebook and thank God, I don't know how she got in contact with them but we found out then that they were all safe"
Three people were killed and more than 100 injured in the blasts.
The first explosion came at about 14:50 local time (18:50 GMT) on the north side of Boylston Street, about two hours after the winners crossed the line.
Then seconds later, a second explosion ripped into the crowd further away from the finishing line.
The Irish Department of Foreign Affairs said the Irish Consulate in Boston was in contact with the city's authorities to establish whether any Irish people have been injured in the explosions.
According to the official Boston Marathon website, 50 competitors listed Ireland as their country of residence, and 108 listed Ireland as their country of citizenship.
The department has advised anyone who is concerned to contact them.