Savita Halappanavar inquest told abortion might have prevented death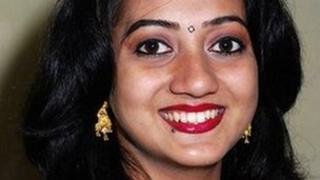 An expert witness has told the Savita Halappanavar inquest that she might have survived if her pregnancy had been terminated days before her death.
However, Dr Peter Boylan added that an abortion would not have been legal at that stage as her life was not at risk.
The witness, who is a former master at the Republic of Ireland's National Maternity Hospital, was giving evidence at the hearing in Galway courthouse.
Mrs Halappanavar died in an Irish hospital, following a miscarriage.
The inquest is examining the circumstances of her death after her family claimed hospital staff repeatedly refused her requests for an abortion.
Dr Boylan told the court that under Irish abortion law, doctors had to wait until her life was at risk until they could intervene, but by that stage it was too late to save her.
'Substantial risk'
The 31-year-old dentist was 17 weeks pregnant when she first presented at Galway University Hospital with back pain on Sunday 21 October 2012.
She died in the hospital's intensive care department one week later, from septicaemia and a rare strain of E. coli.
Mrs Halappanavar had lost her baby in a miscarriage four days before her death.
Dr Boylan told the inquest it was his view that if a termination had been performed on 22 or 23 October 2012, on the balance of probabilities she might have survived.
But he added abortion was not legal at that stage as her life was not at risk.
Dr Boylan, who is one of Ireland's most experienced obstetricians, told the jury that the key question he had examined was whether at any point there was a real and substantial risk to the patient if her pregnancy was not terminated.
He said that when Mrs Halappanavar requested a medical termination from her consultant, Dr Katherine Astbury, on the morning of Tuesday, 23 October, her life was not at risk.
Dr Boylan said this meant a termination was not a practical, legal option at that time.
'Too late'
Under Irish law, abortion can only be carried out when there is a risk to the life - not the health - of a pregnant woman.
Dr Boylan said many people could not understand the law, but medical staff had to work within the confines of the law as it stood.
"The real problem was the inability to terminate prior to Mrs Halappanavar developing a real or substantive risk to her life," Dr Boylan said.
"By that time it was effectively too late to save her life," he added.
Earlier in his testimony, Dr Boylan said that the management of care during Mrs Halappanavar's first visit to the hospital on Sunday 21 October, when she presented with back pain, was entirely appropriate.
When she returned to hospital later that day, she was noted to be distressed and had bulging membranes. It was noted she had an "inevitable impending pregnancy loss".
Dr Boylan said while it was clear on her second visit that there were major problems with the pregnancy, there was nothing to indicate her life was in danger.
Deficiencies
He said that after Mrs Halappanavar's membranes ruptured in the early hours of 22 October she remained stable for the rest of that day and there was still no cause for concern about her life at this time.
The obstetrician told the court that by 06:30 BST on Wednesday 24 October, Mrs Halappanavar had sepsis and there was a real and substantial risk to her life.
Dr Boylan said she had developed an aggressive infection, which resulted in severe and rapid onset of septic shock. He said that essentially in her case, the arrival of sepsis had to be awaited before a termination could be considered.
During his evidence, Dr Boylan said there were deficiencies in Mrs Halappanavar's care at the Galway hospital.
He said while none on their own caused her death, he maintained that an accumulation of failings delayed appropriate treatment and each hour of delay increased the chance of her death by 6%.
The witness also criticised the quality of the hospital's note keeping during a ward round on the morning of Wednesday 24 October.
Dr Boylan added it was was a serious deficiency that the nurse who cared for Mrs Halappanavar that morning had not provided a statement to the inquest.
The nurse was the only staff member involved in the case who did not provide a statement, but has submitted a certificate confirming her inability to attend the hearing which was accepted by the coroner.