Police force strength 'critically low'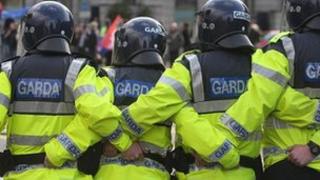 The strength of the police force in the Irish Republic is at a "critically low level" according to senior officers.
The Association of Garda Superintendents has called for the embargo on police recruitment to be lifted.
The call was made at the association's annual conference in Naas, County Kildare.
It said there are also more than 20 vacancies for superintendents across the country that need to be filled.
Concerned
The conference will be addressed by the minister for justice and the garda commissioner later.
Speaking at the conference, the general secretary of the association, Superintendent Pat McCabe, said more police must be recruited to sustain the current stability level of 13,000 in the force, which the commissioner says is the minimum needed to operate a police service in Ireland.
He also said that the public were concerned by the closure of police stations and that they are trying to convince people that the loss of a station does not mean the loss of a policing service.
During his speech he discussed the Croke Park agreement and said the association was calling for fair treatment and open dialogue in any future arrangements on pay and conditions.
Supt McCabe said the association was not briefed on the previous proposed cuts that have since been rejected by unions.