Savita Halappanavar inquest hears cause of death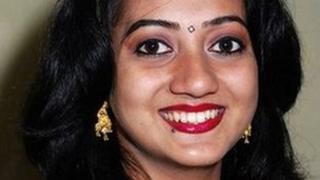 The inquest into the death of Savita Halappanavar has heard details of the post mortem results on her body.
Professor Grace Callagy said the cause of Mrs Halappanavar's death was septic shock, E coli in her bloodstream and a miscarriage at 17 weeks.
She said no underlying conditions contributed to her death.
The inquest is examining the circumstances of the dentist's death after her family claimed hospital staff refused her requests for an abortion.
Mrs Halappanavar died last October.
The 31-year-old was 17 weeks pregnant when she first presented at Galway University Hospital with back pain on Sunday 21 October 2012.
She died in the hospital's intensive care department one week later.
Mrs Halappanavar had lost her baby in a miscarriage four days before her death.
Professor Callaghy told the inquest in Galway that she could not identify an exact time when Mrs Halappanavar contracted sepsis and when her condition deteriorated to severe sepsis and then to septic shock.
She said Mrs Halappanavar had been a strong and healthy woman.
Retired paediatric pathologist Dr Peter Kelehan said he had seen fewer than five cases of septic abortion in 40 years and none of the patients had died.
Praveen Halappanavar, the widower of Mrs Halappanavar, is not attending the inquest on Thursday.
His solicitor said the proceedings were taking their toll on him.