Putin criticism leaves Russian PM Dmitry Medvedev bruised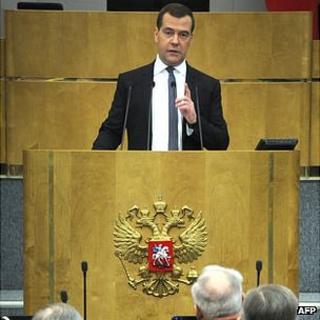 Ever since he meekly stood aside after just one term and allowed Vladimir Putin to return to the presidency, Dmitry Medvedev has been in political trouble.
When his plans for re-establishing the principle of elected regional governors were undermined things looked bad.
When the Investigative Committee, Russia's equivalent of the FBI, began a series of overtly political prosecutions against members of the opposition his plan to defeat "legal nihilism" appeared to be in tatters.
When a professionally-made online documentary uploaded in January accused him of treason he was clearly under attack by political opponents.
But however bad things had been behind the scenes, Prime Minister Medvedev has rarely had a week in which his reputation was so publicly undermined as this one.
Secret filming
It all began on Tuesday at a meeting of ministers and governors in Kalmykia, southern Russia. After a while President Putin asked for the cameras to be turned off.
Then he turned to his officials and said "How do we work? The quality of the work is deplorable. Everything is done superficially and if we work like this, we'll never get bloody anything done.
"If we work more persistently, more professionally, with an understanding of what needs to be done - we'll accomplish this," he went on.
"If we don't manage to do this, we'll have to admit that either I don't work effectively, or you all are working poorly and you will have resign. I would like to draw your attention to the fact that currently I am leaning towards the second option."
Whether by coincidence or not, one camera had kept recording and a video of the scathing attack was posted on the tabloid news website LifeNews.
LifeNews was publicly ticked off by President Putin's spokesman for the leak, but the website is known to be close to the Kremlin.
Stormy debate
Then on Wednesday Mr Medvedev gave his annual speech to the State Duma, the lower house of Russia's national parliament. There he was forced to admit that Russia risked sliding into recession.
Afterwards he was openly criticised by some members of his own United Russia party for making a speech which "lacked self-criticism". The normally tame opposition parties even threatened a vote of no confidence in his government.
On Thursday things got even worse. Officers from the Investigative Committee, which answers directly to Mr Putin, turned up at the Skolkovo Foundation to search the premises and seize documents. Skolkovo is Mr Medvedev's pet project. Vast sums have been poured into the technology scheme, which was intended to be Russia's version of Silicon Valley.
The Investigative Committee is looking at allegations that billions of roubles were misappropriated.
Misuse of budget money is common in Russia, but the investigators usually only turn up when someone is in political trouble.
And the politician most closely associated with the Skolkovo Foundation is Mr Medvedev.