Russian press highlights Boston lessons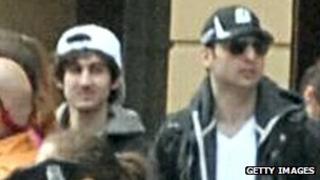 Some Russian newspapers have commented on the Boston terror attack, in the light of news that the suspects were ethnic Chechens from the troubled Caucasus region of southern Russia.
Vladislav Vorobyev in Rossiyskaya Gazeta official daily
It is no secret that Moscow has for years tried to convince Washington that treating with people who are armed to the teeth and prefer to call themselves freedom fighters - and who in fact are nothing but cutthroats, capable only of killing for a good reward - always ends badly. The USA, however, in order to please its geopolitical interests, keeps turning a blind eye to atrocities around the world if it is 'theirs' who behave outrageously... Still, there is hope that the Tsarnaev brothers have helped Washington examine their foreign policy more soberly... US investigators are now probing ties between the Tsarnaevs and the Russia-based Caucasus Emirate terrorist organisation. And why didn't they investigate this earlier?.. There is a feeling that the US special services just sat and waited for the Tsarnaev brothers to get ready for a terror attack... Does the self-preservation instinct of US politicians awaken only when explosions go off in the neighbouring streets?
Mikhail Rostovsky in Moskovsky Komsomolets popular daily
Al-Qaeda appeared as a result of Soviet military intervention in Afghanistan in 1979. Moscow resorted to the move fearing that Afghanistan would become a zone of US influence. Washington tried hard to prompt the USSR to intervene in Afghanistan, wanting its geopolitical rival to sink in the mire of a war that was impossible to win. Striving to harm on another, we harmed ourselves... That is why after the tragedy in Boston I cannot but keep wondering whether Russian-US relations will change for the better? Will the US leadership finally get over "the Richard Pipes syndrome", the hidden preconception that they are countering "bad" terrorism whereas Russia is fighting "good" terrorism? Or are some preconceptions so strong that they do not disappear, even if their own citizens' blood is shed?
Nezavisimaya Gazeta mainstream daily
What do the reckless act ... and the Syrian war that the coalition of Arab insurgents has been conducting against Bashar al-Assad's regime for two years have in common? In both cases we have terrorists practising and guided by the radical Wahhabist ideology... Nevertheless, the latter enjoy the support of Western counties and their allies in the Middle East, whereas the former are being hunted, sued and convicted for long terms or even sentenced to death.... The fact that the FBI did not attach proper importance to the information provided by the Russian Federal Security Service, which asked it to pay special attention to the Tsarnaev brothers, sets you wondering and raises eyebrows... Until we stop dividing extremists and terrorists into our own and aliens, the war against this evil will look like tilting at windmills.
BBC Monitoring reports and analyses news from TV, radio, web and print media around the world. For more reports from BBC Monitoring, click here. You can follow BBC Monitoring on Twitter and Facebook.