Pussy Riot member Alyokhina announces hunger strike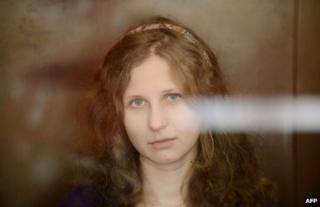 An imprisoned member of the Russian punk band Pussy Riot has announced a hunger strike after being refused the right to attend her own parole hearing.
Maria Alyokhina used a video link from her prison to tell the court in the Urals town of Berezniki that her legal rights had been violated.
Last month, fellow band member Nadezhda Tolokonnikova was denied parole.
The two women were jailed for two years in August for a breach of public order motivated by religious hatred.
They had performed an obscenity-laced "punk prayer" at Moscow's main cathedral, in protest against Vladimir Putin during his re-election campaign.
An appeals court suspended the sentence of a third band member, Yekaterina Samutsevich, in October, but upheld the jail terms for Tolokonnikova and Alyokhina.
Alyokhina said she was asking her lawyers to withdraw from the hearing until she was allowed to attend it in person.
She would not take part in any further proceedings via video links, she added.
Tolokonnikova was allowed to attend her hearing on 26 April in the town of Zubova Polyana in Russia's Mordovia region.
The prosecution of the band members last year drew condemnation worldwide.