Spanish judge orders tax probe for Princess Cristina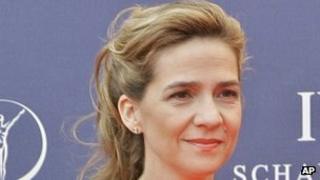 A Spanish judge has ordered an investigation into the tax affairs of King Juan Carlos' daughter, Princess Cristina, over suspected fraud.
Judge Jose Castro has requested details of her financial assets and finances tied to her husband, Inaki Urdangarin.
The Palma de Mallorca court recently withdrew a subpoena against the princess for questioning over an embezzlement case against her husband.
Mr Urdangarin, a former Olympic handball player, denies any wrongdoing.
The investigating judge has asked the tax authorities for information to determine whether Cristina engaged in tax evasion or money laundering between 2007 and 2010, Reuters news agency reports.
Judge Castro is also presiding over the investigation into Mr Urdangarin and his former business partner Diego Torres, who are both suspected of misusing millions of euros in public funds meant for sports events.
Mr Urdangarin, who is the Duke of Palma, is suspected of over-charging local authorities for organising sports events.
This money was allegedly channelled through the non-profit Noos Institute, which he chaired from 2004 to 2006. Princess Cristina was a board member.
It is alleged that some of the money ended up in companies controlled by the duke and in offshore bank accounts.
Princess Cristina was summoned to appear in court on 27 April over suspected complicity in the embezzlement charge.
It is reported to be the first court summons for a direct descendant of the Spanish king.
However, the court later dropped the subpoena for lack of evidence, though they said she could still be called in for questioning over her and her husband's finances.
A spokesman for the royal family's press office has reportedly declined to comment.
Support for the royal family has diminished in recent years, amid criticism that it is out of touch with ordinary Spaniards as they struggle with a severe economic crisis and high unemployment rates.