EU wants Russia to explain air passenger data demand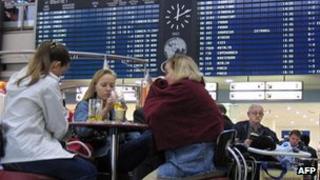 EU officials say they are very concerned about a new Russian requirement for airlines to transfer detailed passenger data for flights to Russian airports.
The EU has no formal agreement with Russia to do so, and the issue raises privacy concerns.
Airlines flying to the US and Australia from Europe do transfer such data - the passenger name record (PNR) - including credit card and phone numbers.
Formal agreements govern the transfers.
The EU is urging Russia not to introduce the requirement as planned on 1 July.
Russia's permanent representative to the EU, Vladimir Chizhov, said Russia needed the extra passenger data for security reasons, but "the list of parameters is much shorter" than what the American authorities demanded from airlines.
In comments to the Interfax news agency, he described the EU reaction as "too emotional". The issue was "strictly technical", he said, adding that the decree had been published officially in September.
He said he had advised EU officials "to read the newspapers in good time".
'Very concerned'
Michele Cercone, spokesman for EU Home Affairs Commissioner Cecilia Malmstroem, told the BBC: "The Commission is very concerned about the measures the Russian authorities want to implement and is asking the Russian authorities to suspend the entry into force of the measures, to better assess the details and consequences on EU airlines and passengers."
He also said it was not clear if overflights of Russia would be included in the planned data regulation.
Commission sources said that while the Russian requirement had appeared in Russia's official government journal, it had not been explained to the Commission directly.
A letter sent to the Russian authorities by the Commission on 15 March seeking an explanation had gone unanswered, the sources said.
Under EU rules, PNR data cannot be transferred to non-EU countries unless there is a clear international agreement with privacy safeguards, the sources said. They added that airlines would face a difficult situation if Russia put the requirement into effect, as they would be bound by EU data protection rules on the one hand and the Russian requirement on the other.
A statement from Russia's transport ministry said "there is no procedure for informing foreign countries about changes to the regulatory and legal framework".